Latest posts by Amarjit S.
(see all)
Cryptocurrencies have become a hot topic in the last few years mostly due to the rise of Bitcoin. According to Statista, there are approximately
3.4 million people

who actively use cryptocurrencies either as a mean of investment or buying and selling of goods and services via the Internet.

Dozens of companies have begun accepting cryptocurrency payments for goods and services. Companies like Starbucks, Nordstrom, Whole Foods and others have joined in the race to offer their products and services to cryptocurrency users.

There are many benefits in store for businesses that accept cryptocurrency payments.
Lower Transaction Fees
If compared to traditional payment systems, the fees paid by merchants to process crypto payments seems to me so much lower, or I could say, almost negligible. For example Luno, one of the leading and established Digital Asset Exchange licence holder here in Malaysia just charges Rm0.10 for interbank/GIRO during withdrawals and does not charge anything when funds are deposited into the exchange.
According to Bloomberg, from 2017, merchants paid $90 billion to Visa and Mastercard in credit card swipe fees alone. And these are not the only fees I'm talking about. There are various other hidden fees such as debit card fee, credit card annual fee, ATM fee, cross-border fee, overdraft fee, and…(GOD knows what other fees!).
In fact, this is not the only benefit. There are other benefits for companies to accept cryptocurrency payments, such as:-
High data protection.
Higher security.
Instant borderless transactions.
Zero chargebacks.
Zero 3rd party involvement.
I'd love to share each one of the benefits stated above in greater detail (perhaps in a future blog post). But right now, I want to you learn the exact steps of how you can start accepting cryptocurrency payments in your business without registering and paying any fees to payment gateway companies.
Exact Steps To Start Accepting Payments In Crypto
STEP-1: Sign up for an account with Luno and get Free Bitcoin.
For a limited time, Luno is giving away MYR25 in bitcoin to anyone who is referred by us to open a new account. You will receive Rm25 in bitcoin when you deposit and buy Rm250 worth of Bitcoin.
Steps to grab this generous offer:-
Click on the red Get Started button.
IMPORTANT NOTE: Please ensure you are an individual and the rightful owner of your business who is signing up for this account. If you already have a Luno account previously, you may skip the rest of the steps and go straight to Step-6.
On the next screen, simply insert your Email address and a Password.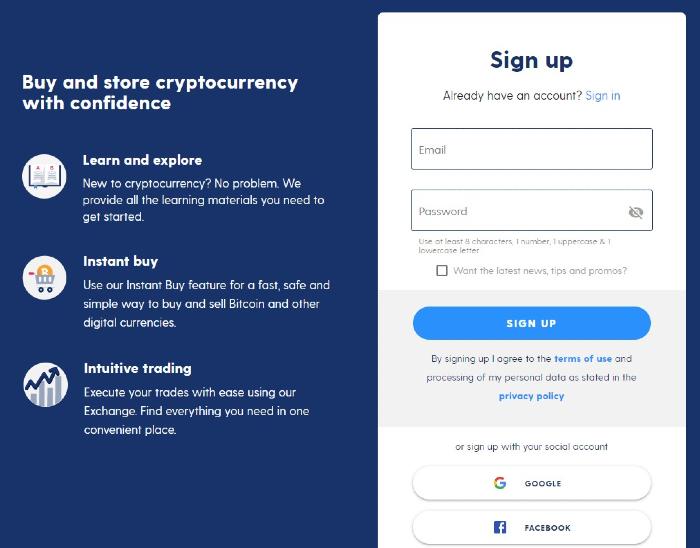 You may also opt to signup using your Google or Facebook account and if you wish, you may subscribe to their newsletter by checking the tiny box just above the blue Sign Up button.
STEP-2: Verify Its You.
Next, you will need to verify your identity. Simply login to your email and hit the link that says, Confirm Email Address. Upon verifying your identity, you will get a Mission Success note pop.
Next, you'll need to Setup your profile.
This is an important step which is compulsory for all Luno account holders. Luno needs to comply to the global KYC/AML standards. It's a simple process which I believe you can do it in the next few minutes.
STEP-3: Setup Your Profile
Insert your name, your citizenship, your MyKad number, reason why you want to use Luno and the industry you work in.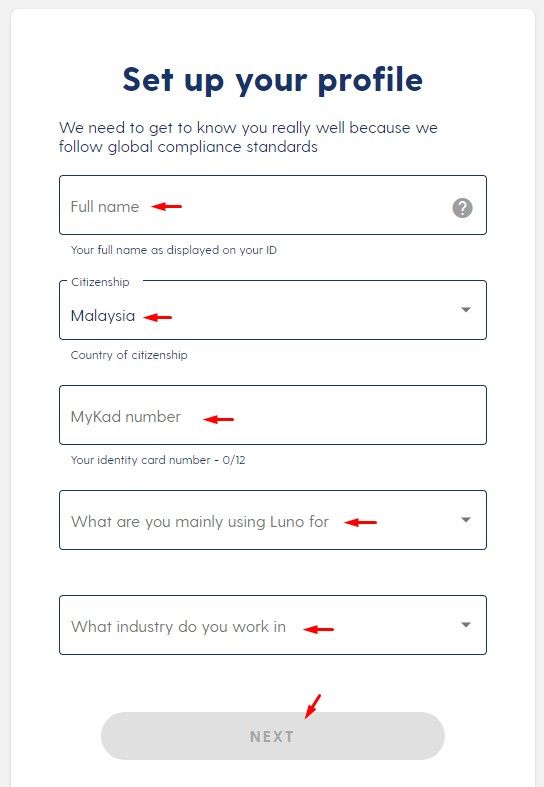 NOTE: In the section where Luno asks "What are you mainly using Luno for?" Choose Trading as your answer.
STEP-5: Upload Your Documents. [Important]
To complete the signup process, you will need to upload a few personal documents for example, your driving licence, MyKad, utility bill etc. This is all part of Luno's global compliance procedure. Once you have uploaded all the required documents, Luno will process your application and approve it. Once your application is approved, you can buy, sell and start accepting cryptocurrenc payments in the wallet.
I discovered an interesting article which explains how to get pass Luno's verification process. You may want to view it.
STEP-6: Select a Cryptocurrency Wallet
Login to your Luno account either via the desktop or mobile app. I usually prefer to do this from a PC or desktop. Once logged in, click Wallets at the top menu bar.
STEP-7: Click Receive
Now you're in the wallet summary screen. Who's wallet? Your wallet of course!
Here you can see the combined wallet value on top and the separate crypto wallets and local currency wallet at the bottom. Probably, your wallet is showing all zeros. That's because you haven't yet bought, sold, traded or deposited any funds into your wallet. But once you start buying or receive cryptocurrency payments, the figures will show up here. (Sorry, I had to blur the figures in the screenshot above for privacy reasons.)
Next, click the RECEIVE tab. Choose which crpytocurrency you want to receive payments in. For purpose of this tutorial, I'm going to choose Bitcoin. Below are all cryptocurrencies supported by Luno.
Bitcoin (BTC)
Bitcoin Cash (BCH)
Ethereum (ETH)
Ripple (XRP)
Litecoin (LTC)

Once you click RECEIVE,a pop up will appear asking you to choose which receive address you want to use. Luno will provide you with a generic Bitcoin wallet address. You can simply select this and move on or you can generate a new Bitcoin wallet address. I will usually create a new bitcoin address based on the unique product or service I'm selling. In this way, I'm able to keep track as to which payments I received for which products sold.
STEP-8: Create a New Bitcoin Address
STEP-9: Copy QR Code
This is the final step of the process.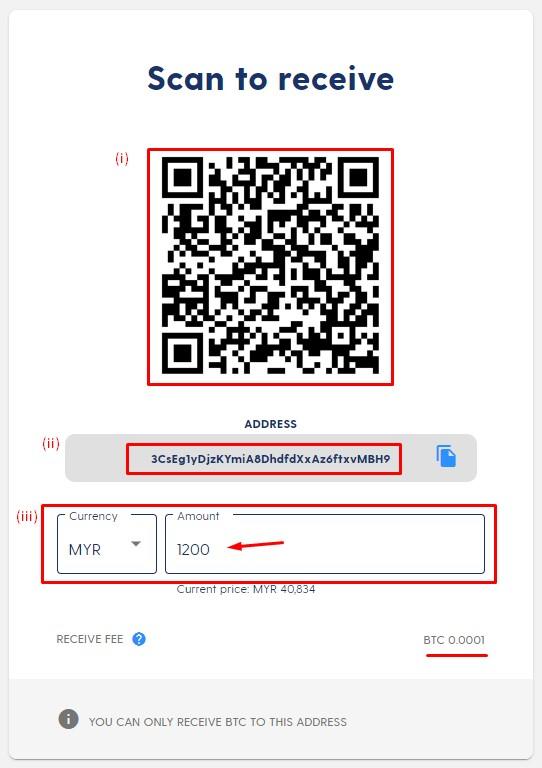 First, insert the amount you want to receive. Say you want to receive MYR1200 for one of your products. You will select MYR under Currency column and type 1200 in the Amount column. Depending on the crypto wallet your customer will be using at the time of the transaction to send you bitcoin, if you inserted the exact amount of MYR1200, you will not receive this amount in Bitcoin due to bitcoin price fluctuations and international currency exchange rate. You will receive slightly lesser.
If you do not wish to absorb this small loss, you may increase the final figure and insert it in the Amount column.
(Note: the QR code will change as soon as you insert the amount. Meaning, the client will only pay the exact amount you type in here. If you do not wish to receive a particular set amount, you may leave this section blank. Luno automatically calculates the receive fees. Click here to view Luno's complete fee structure.)
Next, you will need to take a screenshot of the QR Code and save it in .jpg or .png format. After that, you will need to copy the long string of digits.
I usually prefer to use both QR code and long string digits when invoicing a customer. This gives the customer a choice to either scan the QR using their wallets scanner or copy-paste the long string of digits into their wallets. An example of this can be seen in our sample invoice below.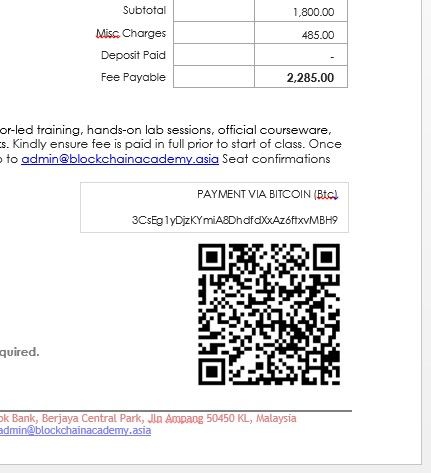 Conclusion
You may feel a little tedious having to do so many steps but once you get used to it, it will a breeze to get this done.
Trust me. You will save a lot of time and money. Perhaps there are simpler ways for you to get this done via opening an account with digital payment merchants but you'll most likely ended up signing up for one of their premium paid accounts with a monthly/ yearly fee. I just wanted to demonstrate to you an alternative route of how you can quickly start accepting cryptocurrencies in your business with zero monthly fees or any fees whatsoever.
Of course, this method may not be suitable for certain types of businesses. For example, a large business which relies upon traditional POS (point of sale) and accounting systems. But I believe new payment gateway companies are on the rise.
Q: How long does it take for a Bitcoin payment to show in my wallet?
According to Luno, when somebody sends you cryptocurrency, you'll receive a notification. Incoming transactions will appear in your transaction list (found in Wallets from the Menu) but it requires three Blockchain confirmations before it is considered received.
Incoming Ethereum transactions require 30 confirmations instead. These confirmations usually happen faster than on the Bitcoin network. Once a transaction has enough confirmations, Luno will send you a notification and it will also appear in the appropriate wallet.
That's it! You're now successfully completed the process of collecting cryptocurrencies for your business. What are you waiting for? Go ahead and register for your Luno account today and get Rm25 worth of Bitcoin in your wallet, for Free!
I hope this tutorial has been helpful. If yes, please click the green thumbs up button below and if you have any questions, I'll gladly answer them in the comments section below.  Thanks 🙂
Img: Flickr