Certified Blockchain Technologist™ is a unique classroom, instructor-led training designed for anyone who wants to learn and experience what is blockchain technology and how it actually works. The instructor will run through many use-cases and share actual case studies of how this tech is being applied in the real-world from creating cryptocurrencies, NFTs, government applications, shipping applications etc.
Understand blockchain technology fundamental concepts.
Discuss why and how blockchain is beyond payments and finance.
Identify and examine what are the existing blockchain protocols.
Illustrate what are smart contracts, smart properties and other smart assets.
Recognize what are some of the common blockchain tools.
Which programming languages to use.
What is Web 3.0 and why blockchain technology matters.
Difference between Bitcoin and Ethereum. (Technical overview)
Uncover the different types of cryptocurrency wallets. Which ones are safe and which aren't.
Learn how to incorporate digital payments into your business.
What are the technical limitations of blockchain & any proposed solutions.
Study the guidelines setup by Bank Negara Malaysia (BNM).
Securities Commission of Malaysia (SC) guidelines on Digital Assets Exchanges.
The different types of cryptocurrency exchanges in the market.
Examine 5 Malaysian Fintech cum blockchain projects. (CASE STUDY)
Role of NFTs and Metaverse.
Future of blockchain technology.
Build a blockchain application (CLASS PROJECT)
Testimonials
It was an amazing experience. I highly recommend it for all ages and sectors!


Learned something new and very interesting topic to know about.


Learn a lot about blockchain technology from these people. Awesome!


---
Certificate of Achievement
Participants who have completed this training will receive a Certificate of Achievement. The CBT course has been vetted and approved by two world-class organizations; IDACB and World Blockchain Association.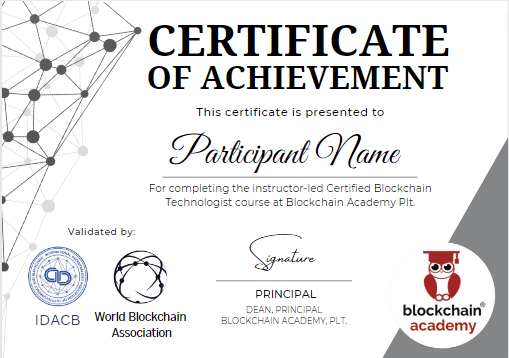 ---
Questions?
We are here to answer any questions. Write to us.
Quick Glance
Mode: Instructor-led
Level: Beginner to Intermediate
Language: English
Courseware: Yes
Class Project: Yes
Certificate: Yes
Next Intake:
Sept 2023
Day: Thurs & Fri
Time: 9am-5pm
Fees: RM1499 (early bird rate)
RM2399 (regular fees)