Overview
Certified Blockchain Technologist™ course is a 2-day instructor-led training. Participants will explore not only the fundamental concepts of blockchain technology, but also gain an in-depth understanding of the current and future blockchain trends and applications that need to be developed. Blockchain has already disrupted close to 25 industries worldwide and its only begun to scratch the surface. Participants who join this course will witness various case studies and learn from an industry expert of what needs to be done a blockchain startup to be successful. On the last lay, you will do a 'live' blockchain installation in class. No technical knowledge is required to attend this course.
By the end of 2019, global spending on blockchain solutions is projected to reach about $2.9 billion U.S. dollars and 11.7 billion by 2022.
The market value of blockchain in the food and agriculture market, globally, is projected to climb to $1.4 billion U.S. dollars by 2028.
The blockchain spending of China is forecasted to grow to $1.42 billion U.S. dollars by 2022.

Excellent speaker! Now I know what to do to profit from blockchain.

Abu Sayeed Hamed
Petaling Jaya
Great session. Learned a lot from this session.

Prospectus
Download the course prospectus with complete course outlines, next intake dates, course fee, etc.

What Will You Learn
By the time you complete this training, you will be able to...
Define exactly what blockchain technology fundamental concepts are.
Discuss why blockchain technology and decentralized applications (dApps) are beyond payments and finance.
Identify and examine what are the existing Blockchain protocols and digital currencies eg. Bitcoin, Ethereum, Bitcoin Cash.
Illustrate what are smart contracts, smart properties and other smart assets.
Assemble and analyse how the EVM (Ethereum Virtual Machine) works.
Recognize what are some of the common blockchain tools and programming languages used to code blockchain.
Inspect what is Blockchain 3.0 and why it matters.
Assess what are the technical limitations of blockchain technology right now.
Discuss and examine how Malaysia and other countries in SEA are viewing blockchain and cryptocurrencies.
Interpret what are the blockchain and exchange guidelines setup by BNM (Bank Negara Malaysia) and SC (Securities Commission of Malaysia).
Construct a live implementation of a private blockchain in class.
Predict what the future holds for blockchain technology in 2019 and beyond.
Course Modules - Day1
Welcome Note and Basic Introduction
Module 01 - Blockchain Basics
Module 02 - Digital Currency
Module 03 - Smart Contracts
Module 04 – Smart Property
Module 05 - DAOs & DApps
Day2
Module 06 – Blockchain 3.0
Module 07 – Blockchain Limitations
Module 08 – Possible Solutions
Module 09 - Government Regulations
Module 10 - Blockchain Setup (Live In Class)
Group Work & Assessment
Instructor

Amarjit Singh (CBP, CBT, CFP, MCSE)

Amarjit is truly a talented industry expert and master trainer.
He has more than 15-years experience in IT hardware, software and security. He has worked with IBM and Citibank in the past and is currently on the advisory board for several fintech and blockchain startups. He is very well versed with the different blockchain protocol stacks (eg. Bitcoin, Ethereum, EOS etc).
Amarjit is also the Co-founder of Blockchain Academy. He sits on the Board of Director for IDACB (International Decentralized Association of Cryptocurrency & Blockchain). He is an executive member of World Blockchain Association and has written TWO internationally acclaimed course wares. Amarjit is proud to be one of Malaysia's first conferred TEDx speakers.
In his freetime, Amarjit actively participates in events and conventions locally and abroad. He is a highly sought after keynote speaker and has moderated many panel discussions globally. He is available for hire if you need someone to shake the stage and mesmerize the crowd.
His students and fans have rated him 9/10.
Certificate
Upon completion of this course, you will receive a premier certificate from Blockchain Academy.
All certificates issued by the academy are timestamped on the blockchain.
This means anyone at anytime can validate the authenticity of your cert to prove its authenticity.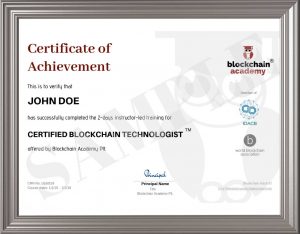 Prospectus
Download the course prospectus with complete course outlines, next intake dates, course fee, etc.


Vincent Cheong
Petaling Jaya
A great presentation of knowledge and information on blockchain.

Awesome and eye-opening. Informative and better clearer understanding of blockchain tech.