Artificial Intelligence (AI) is no longer science fiction. Instead, it is rapidly being deployed by some of the worlds largest banks and financial institution as well as many Fintech startups around the world. Whether you are an entrepreneur or a student – learning the fundamentals of AI in this course will certainly provide you with an edge as you go on to deploy next generation smart applications powered by Artificial Intelligence.
---
What You'll Learn
Understanding AI basics, its applications and use cases, and how its transforming our lives.
Describe how AI-powered chatbot technology works and its applications.
Experience hands-on interactions with several AI environments and applications.
Explain terms like Machine Learning, Deep Learning, and Neural Networks
Describe several issues and ethical concerns surrounding AI
Articulate advice from experts about learning and starting a career in AI
---
Course Hours & Delivery
This is an online, self-paced course developed by IBM. Participants are required to complete all modules within 4-weeks (1-2 hours per week). Once enrolled, you will be guided by your moderator who will further assist you to complete the course.
---
Instructor
Rav Ahuja
AI and Data Science Program Director at IBM

Rav Ahuja is a Global Program Director at IBM. Rav leads growth strategy, curriculum creation, and partner programs for the IBM Skills Network. He holds a B. Eng. from McGill University and MBA from University of Western Ontario. Rav co-founded Cognitive Class, an IBM led initiative to democratize skills for in demand technologies. He is based out of the IBM Canada Lab in Toronto and specializes in instructional solutions for AI, Data Science, Cloud and Blockchain.
---
Moderator
Amarjit Singh
Principal at BlockchainAcademy.asia
Amarjit is a Microsoft Certified Systems Engineer (MCSE) and a Certified Bitcoin Professional (CBP) from c4. He has over 20-years experience in IT, Network Security, Banking, Education and Project Management. Apart from teaching blockchain, Fintech and smart contracts, he and his team is also assisting many Fintech startups with designing robust, state-of-the-art, blockchain-enabled  Fintech applications. Amarjit is a Board of Director for IDACB (International Decentralized Association of Cryptocurrency & Blockchain) and a TEDx speaker.
---
Pre-requisite
Anyone can enroll in this course. No prior background in AI, computer science or programming skills is required. This is a great supplementary course for anyone who has completed a Fintech course.
---
Certification
Upon full course completion, students will receive TWO certificates. You may display these certs in your LinkedIn profile.
Verified certificate from IBM (optional paid upgrade)
Certificate of Completion from Blockchain Academy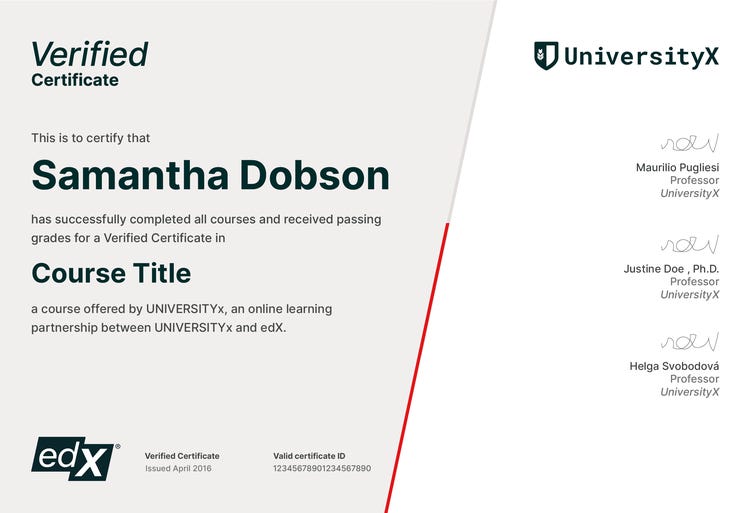 ---
Frequently Asked Questions (FAQ)
This is a paid course. Once you have enrolled and made payment, you will gain access to all the course materials, video tutorials etc. An added advantage is you will get your own personal tutor (moderator) who will help you with any questions you may have.
A moderator is important as he/ she will be your personal tutor and to ensure you complete the course on time. If you have any queries or questions, you may ask the moderator too as he/she is well versed with the course as well.
Upgrading is optional. If you choose not to upgrade, you will still gain access to the course materials and videos but for the specified time as stated in the Quick Glance section of the course page.
You will receive a certificate of completion from Blockchain Academy soon as you complete your course. Upgrading will give you a chance to sit for the graded assignments and receive a verified certificate from the organization or university.
Enrolling is easy. Simply lookout for the ENROLL section on the course page and insert your name and email. Click Enroll. Next, you will see a popup appear where you will need to insert your card details etc. Once done, you will be directed to the edX login/registration page. Simply follow the on-screen instructions and you will gain immediate access to your course.
You can use any valid debt/credit card to enroll into our courses. We accept credit cards from Visa, Mastercard, AMEX and even debit cards from all major banks.
NOTE: BlockchainAcademy.asia is in partnership with IBM via edX. When you enroll into this course, and if you decide to upgrade to the verified path, we may receive a commission from the organization/university.
Quick Glance
Online Self-paced
Duration: 4-weeks
Moderator
Language: English
Video Tutorials
Fee: $50