Certified Blockchain Technologist™ is a unique 2-day instructor-led, hands-on training specifically designed for anyone who wants to learn the ropes of building blockchain applications, a cryptocurrency, NFTs and more importantly how to materialize their idea into actual Proof of Concepts to receive $million dollar fundings.
Understand and define blockchain technology fundamental concepts.
Discuss why and how blockchain is beyond payments and finance.
Identify and examine what are the existing blockchain protocols.
Illustrate what are smart contracts, smart properties and other smart assets.
Recognize what are some of the common blockchain tools and programming languages
Inspect what is Web 3.0 and why blockchain technology matters.
Understand the difference between Bitcoin and Ethereum. (Technical overview)
Uncover the different types of cryptocurrency wallets. Which ones are safe and which aren't.
Learn how to incorporate digital payments into your business.
What are the technical limitations of blockchain & any proposed solutions.
Study the guidelines setup by Bank Negara Malaysia (BNM)
Securities Commission of Malaysia (SC) guidelines on Digital Assets Exchanges
The different types of cryptocurrency exchanges in the market.
Examine TOP-5 Malaysian Fintech projects. [REAL CASE-STUDIES]
What are NFTs and Metaverse?
How to create your own blockchain or cryptocurrency?
What is the future of blockchain technology?
Testimonials
It was an amazing experience. I highly recommend it for all ages and sectors!


Learned something new and very interesting topic to know about.


Learn a lot about blockchain technology from these people. Awesome!


---
Certificates
Upon completing this course and assessments, you will be awarded a Certificate of Achievement which is time-stamped by a tamper-proof blockchain application. This enhances the value of your cert and shows more credibility. You or anyone is able to verify the authenticity of the cert at anytime from a public blockchain.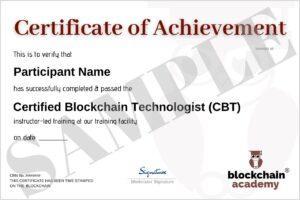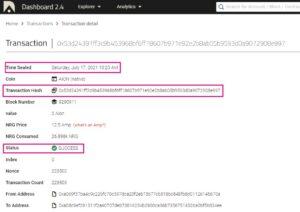 ---
100% Satisfaction Guarantee
We are so confident you will find this training valuable and fun. If for whatever reason, upon completing your first day, you're not completely satisfied, simply approach your instructor and let him know the issue. If he can't resolve it, we will refund your fees* back, PLUS  we will let you keep all the training materials, courseware, programming templates etc. 
* Fee refund is excluding f&b cost.
---
Questions?
Click the LiveChat button on your right or send us an email.
Quick Glance
Mode: Instructor-led
Level: Beginner to Intermediate
Language: English
Courseware: Yes
Exam: Yes
Lunch + 2 Tea breaks
Money-Back-Guarantee: Yes
NEXT INTAKE: We are finalizing the dates for the next intake. If you are interested to enroll, kindly fill in the form below and we will notify you via email soon as we receive the dates.
Your details are 100% safe.