Latest posts by Amarjit S.
(see all)
I'm hearing you say…"What is FinTech?" Ok! I just made that up. My Ai chip is still in the making. 🙂 FinTech refers to the integration of technology into offerings by financial services companies in order to improve their use and delivery to consumers!" Simply put, its a fusion of technology into financial products and services, hence the term "FinTech". But I consider this as Phase-1.
Let's see some examples of FinTech (Phase-1):-
Online banking
Mobile banking apps and mobile banking security
Voice banking
Facebook instant messaging for customer service
Financial protection services
Text fraud alerts
Fraud protection & identify theft
Automatic savings applications
Ever since the explosive Internet revolution took stage, including mobile and smartphones usage has increased ten folds. Consumer awareness of FinTech services is high across all categories, but particularly money transfer and payments services.

According to EY's latest 2019 Global Fintech report,
In both India and Russia, 99.5% of consumers are aware that there are FinTech services available to transfer money and make payments. The elevated awareness in
India stems in part from the government's plan, announced in 2017, to decrease the amount of paper currency in circulation.
In Russia, the rate of awareness may be connected to foreign sanctions imposed on major banks, which has raised the profile of alternative providers for services such as in remittances and foreign exchange.
Consumers showed surprisingly high levels of awareness for "invented" FinTech services. Globally, 89% of consumers are aware of the existence of in-store mobile phone payment platforms and 82% are aware of peer-to-peer payment systems and non-bank money transfers—all services driven by FinTech. The extensive integration of FinTech payments propositions with on- and offline retail means consumers are
presented with a range of options upon checkout, further increasing awareness.
Today, Fintech describes many different financial activities. Some of the examples would be online money transfer, cheque depositing via your mobile phone, raising capital for your startup and even automating your investment portfolio via robo-advisors (ok! this one uses a bit of AI (artificial intelligence) obviously, but you know where I'm getting.
In the latest EY's Global Fintech Adoption Index 2019, EY interviewed more than 27,000 consumers in 27 markets. They examined how FinTech has improved and expanded its offerings around the world, and also how it has spurred change across the entire financial services industry. FinTech strives to make financial services more accessible for both consumers and businesses. By connecting customers to a digital world, FinTech enhances their experiences, making them efficient, economical and frictionless.
Wait! So, where is the threat?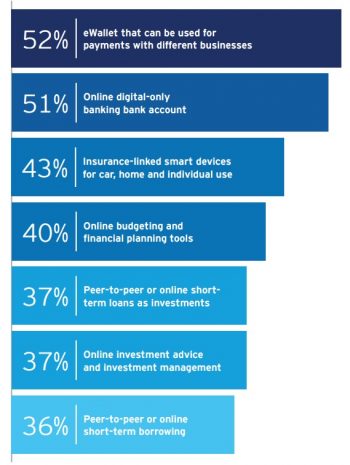 Challengers and incumbents alike face a new competitive threat that comes from outside the financial industry altogether. Non-financial services companies such as retailers, technology platforms, and automakers are increasingly developing their own technology-enabled financial services offerings.
These organizations build on existing relationships with customers to offer holistic propositions accompanied by complementary services, including activities such as insurance and lending that were once the exclusive purview of financial providers.
Often, these non-financial services companies enter the game having already gone through their own transformations around innovative technologies. They have redeveloped their original consumer propositions to become faster, frictionless, cheaper and more convenient.
Their successful transformations influence consumer perceptions and expectations toward financial offerings. Across the five categories, 68% of consumers are willing to consider a financial product offered by a non-financial services company. They are most open to retailers (45%) and telecommunication firms (44%) as service providers, and most willing to use money and transfer payment FinTech services such as digital-only banking and multimerchant eWallets.
To conclude
So, while banking is more resistant to change than some other industries, the changes are happening, across all major sectors, and they are happening really fast. Fintech certainly seems to have a bright future and looks like its going to create some really awesomely cool products and services in the near future.
Images courtesy of EY Global Fintech Report 2019
---